February 24, 2020 by Marjorie R. Rogers, MA (English), Certified Consultant
Baby onesies are loosely fitted bodysuit which covers the torso. Apart from being comfortable baby clothes for sleeping onesies is a diaper shirt on a creep that conceals the diaper.
When you are shopping for newborn clothes you will come across onesies and they are a must-have for babies regardless of the season they are born.
Read More – 6 Practical Baby Shower Tips
Baby onesies come in a variety of design and here are some five tips that will help by baby onesies
Look for 100% Cotton Baby Onesies
100%pure cotton is ideal for baby clothes. This is because apart from being soft and gentle on baby's sensitive skin cotton is an excellent temperature and moisture regulator.it helps in keeping the baby's body cool when it is hot and give the body some warmth when it is cold. Cotton is also easy to wash and it's durable.so when buying baby onesies ensure you buy ones that have 100% cotton.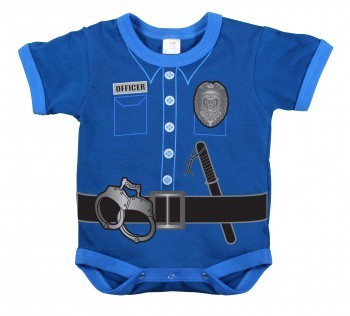 Look for Comfortable Onesies
The comfort of your baby is your everyday goals. It ensures that the baby is always happy and comfortable. When buying baby onesies look for the comfortability aspect of what you are selecting. Materials like cotton is an excellent feature since it is super soft and breathable. This will make the baby feel comfortable wearing that onesie.
Police Officer Baby Onesie, one of the top quality baby onesies; provides by southernsistersdesigns.com that can be your best choice.
Buy Different Sizes
If you are expecting a baby when shopping for onesies is good to buy a variety of sizes since you are not sure what size will be perfect for your baby. You can even buy big sizes because babies grow quickly and they might outgrow the fitting onesies with no time.
Read More – 5 Things You Should Consider Before Buying Baby Clothes
Look for Easily Fitting Onesies
Onesies come in different designs. When shopping, look for ones that you can easily put on your baby. Some come with features like expandable shoulder opening and neckline and expandable facets for easy dressing. This will simplify the process of dressing your baby.
Look for Snaps
One of the features to look for in onesies for babies is the snaps at the crotch. You will need to change your baby diapers and thus you need something that you can quickly remove and change diapers fast. Some onesies may require you to take out the entire thing when changing diapers. This is time-consuming, annoying and energy-consuming. Look for onesies with snaps at the crotch that will help you change diapers and easily.
Shopping for baby onesies should not be difficult if you follow these tips.
Related Articles
About Author (Marjorie R. Rogers)
The inspiring mum of 6 who dedicates her time to supporting others. While battling with her own demons she continues to be the voice for others unable to speak out. Mental illness almost destroyed her, yet here she is fighting back and teaching you all the things she has learned along the way. Get Started To Read …