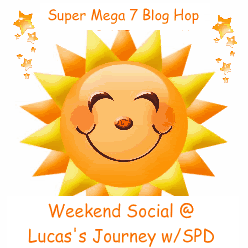 A big
thank you
to Debbie over at
Lucas's Journey w/SPD
for featuring me over at the Super Mega 7 Weekend Blog Hop!
"Everyone who links up today at
Lucas's Journey w/SPD
will be entered into their giveaway this week! One winner will
be featured next week and receive a placement in one of our ad spots!
They will also choose one winner to receive a $25 Restaurant.com Gift Card to have dinner! You deserve it : )"
Help spread the word about this awesome hop!